Jan 2, 2013
Go out in your convictions and beliefs and creeds, but work on allowing God to replace those with His Holy presence.
Living by a set of religious beliefs is trying to walk with God by someone else's experience with God. Experience God in your own life.  Let nothing come between you and God – not even religion or what you learned in church or Sunday School.  He is the God of RIGHT NOW.
Don't allow your religious habits to block your walk with God today. You become pious and end up in pride by being so "Faithful" to your routine.  Be routine only until it helps you step up to the next level of an unregimented-free flowing walk with God.  Where will He take you today?
I'm not saying having a well disciplined routine of reading your bible and praying and going to church is bad.  They are wonderful, but what are your motivations? Are you going out of fear? Are you going because you want to?   Are you learning and growing in your relationship with God?  Go to church because you can't wait to worship God with other believers and to hear from God!  Read your bible because it shines light on your path! Pray because you want to commune with God Almighty!  Listen to your favorite preachers and teachers on TV and Radio because you enjoy it and you learn something when you do.  Stay spiritually fed all day.  Walk with Him all day long.  Yes, it's possible…the more you invite God into your life, the more He will!  If you're doing things for God out of guilt, or fear  ask God to give you right and proper desires.  While I'm on this subject of right motivations…what is your motive for being a Christian?  Is it just "fire" insurance?  You don't want to go to hell?  Well, that is one of the benefits, but better than that is you get to have a relationship with God Almighty!  He will be with you here and now, not just when you die. Right here, Right now.
Prayer: Heavenly Father, I welcome you to be my guide today.  Fulfill your purpose in me.  Let me hear your voice, and walk in your ways.  Be with me today Lord, I ask in Jesus name, AMEN.
Qoute: "I drove away from my mind everything capable of spoiling the sense of the presence of God…I just make it my business to persevere in His Holy presence"   Brother Lawrence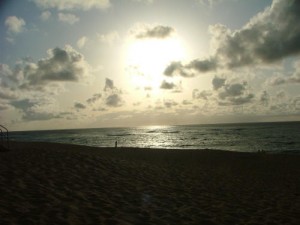 The purest motive for getting to know God better is simply to Know Him.
SCRIPTURES
Psalm 37:4 Take delight in the LORD, and he will give you the desires of your heart.
Psalm 51:10  Create in me a clean heart O God and renew a right spirit within me. 
Phillipians 4:8 Finally, brothers and sisters, whatever is true, whatever is noble, whatever is right, whatever is pure, whatever is lovely, whatever is admirable–if anything is excellent or praiseworthy–think about such things.
Revelation 3:20   "Look! I stand at the door and knock. If you hear my voice and open the door, I will come in, and we will share a meal together as friends."
Deuteronomy 31:8 "Do not be afraid or discouraged, for the LORD will personally go ahead of you. He will be with you; he will neither fail you nor abandon you."